Greetings to all !!!
A school is one where teachers have the passion for teaching and transmit to the children the passion for learning. Children may forget the text books taught by teachers, but they will never forget how teachers made them feel how great the students are.
Any child is a unique individual who needs a happy, congenial, safe environment to grow as an individual. A solid foundation with this vision can be given only by a school.
With this vision PEM School of Excellence and its  motto "Truth Triumphs" took its inception in the year 2009. Within a short span of 3 years the School achieved 3 National CBSE Awards.
The mission of  our School with a team of staff members is to make our students complete their schooling to meet their valuable life under all situations and its consequences. The Students are guided and taught to :
foster a sense of vision and decision making.
accept roles of responsibility with integrity and honesty.
work collectively with others.
earn the respect of others through their actions.
never hurt others.
learn safety and well being of fellow students.
be humble, to accept one's mistakes and never to repeat them.
carry oneself uprightly.
To put what education is into a nut shell, the appropriate thirukkural is
"கற்க கசடறக் கற்பவை கற்றபின் நிற்க அதற்குத் தக. "
learn flawlessly and reflect the learning throughout your life.
Though education helps to develop critical skills, logical thinking, mental agility, decision-making to problem-solving, so on and so forth, ultimately the purpose of education is that all must learn to be responsible citizens and to show respect for their personal rights and that of others. 'Human being' must learn 'being human' and that is the core of education.
To have a campus exclusively for nursery and primary children, the most important years of learning being formed was yet another vision. This was fulfilled in the year 2020 in Lakshmi Garden on Kangayam Main Road. The campus is vibrant with the tiny tots. They enjoy the compact class rooms surrounded by fruit yielding trees, herbal garden and extensive play area.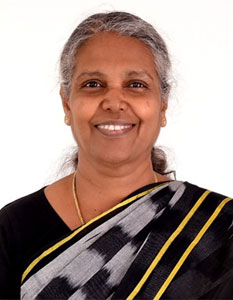 Mrs.KAUSALYA RAJAN M.A., B.ED.,